Welcome to Nepal, a Kingdom of high Himalayan mountains and deep valleys, lush jungles exotic wildlife, people of diverse origin and their own specific cultures. No wonder Nepal is known through so many names. The land of Everest, the highest mountain in the world, the birthplace of Lord Buddha, the only Hindu Kingdom in the world and so on. But what attracts so many to Nepal is it's beauty and the simplicity of its people. Roughly rectangular in shape, the Kingdom of Nepal is a landlocked country that is situated between China in the north and India in the east, west and south. The land extends roughly 885 km east to west and 193 km north to south.Altitude ranges from near sea level to 8,848 meters above it – the summit of Mt. Everest, the highest peak of the planet. This wild variation fosters an incredible variety of ecosystems: steamy jungles and terraced valleys, forested hills, frozen peaks and high altitude deserts. Tropical flowers frame views of not-so-distant snow peaks, tigers and rhinos wander around lush jungles while snow leopards patrol barren mountain slopes.
Nepal's topography can be divided into three different geographic regions based on the rising elevation from the sea level. Each region has its own diverse environment, people and culture and their own special identity.
Kathmandu Valley
The Kathmandu Valley, the capital, is the political, commercial and cultural hub of Nepal. Spread across an area of 360 square kilometers and at an altitude of 1336 meter above the sea level, Kathmandu is an exotic and fascinating showcase of a very rich culture, art and tradition. The valley, roughly oval bowl measuring 24 km east-west and 19 km north-south, is encircled by a range of green terraced hills and dotted by compact clusters of red tiled-roofed houses. A remarkable legend speaks that the valley was once covered by a lake until the Bodhisattva Manjushri raised his sword of wisdom and sliced a passage through the mountain walls, draining the water and creating the first settlements.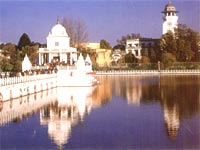 The valley embraces most of Nepal's ethinc groups, but Newars are the indigenous inhabitants and the creators of the valley's splendid civilization.
Not very long ago, it was said that there were just as many houses as there were temples and shrines in Kathmandu valley. Now, of course, that fact does not hold true because of the rapid urbanization and population growth in the
last three decades. Nevertheless, the valley still exhibits a living, breathing entity,a vital culture that has miraculously survived till now.
The valley consists of three fabulous cities of great historic and cultural interest. These legendry cities go by the names of:
Kathmandu
The city of Kathmandu is a melting pot for the nations population not only today but also in the yester years. Perhaps that is the reason behind the rich cultural heritage of the city. Kathmandu with its unique architectural heritage, palaces, temples and courtyards has inspired many writers, artisits, and poets both foreign and Nepalese. It boasts a unique symbiosis of Hinduism, Buddhism as well as Tantrism in its culture which is still alive today as it was hundreds of years ago. The relegious influence can be openly seen in the city.
Major Tourist Attractions:
Kathmandu Durbar Square
Machchhendranath Temple
Akash Bhairav Temple
Kasthamandap
Ashok Vinayak
Tundikhel
Pashupati NathTemple
Guheswari Temple
Boudha Nath Stupa
Budhanilkantha Temple
Swoyambhu Nath Stupa
Patan
Just across the holy Bagmati river stands another ancient city called Lalitpur. A twenty-minute cab ride from Kathmandu city, Lalitpur is a charming city which has still retained its tranquil ambience. Walking down the quiet, narrow streets of the city, you would come across traditional building, exquisite temples and tiny shops of artists, metalworkers, wood workers and stonecutters. The city is indeed renowned for its fine craftmanship.
Major Tourist Attractions:
Patan Durbar Square
Krishna Temple
Mahaboudha
Kumbheshwor
Jagatnarayan Temple
Temple of Machhendranath and Minnath
The Zoo
Godavari
Phulchowki
Bhaktapur
Situated at an altitude of 1401 meter, Bhaktapur covers an area of 4 square miles. Shaped liked a conch-shell, Bhaktapur means the city of devotees. Pottery and weaving are its traditional industries. The city lies about 14 km east of Kathmandu city and can be reached by public transport and by trolley (electric) buses.
Major Tourist Attractions
Bhaktapur Durbar Square
Nyatpola Temple
Bhairavnath Temple
Dattatraya Square
Potter's Square
Surya Vinayak