Buddha was born some 2500 years ago in Lumbini in the southern Nepal. Lumbini is the greatest pilgrimage site for all the Buddhists from all over the world. Lumbini today houses the pond where Buddha was bathed after he was born and a temple which has images of young Buddha with his mother. There is also a Stone pillar which is one of such many pillars put by the famous Indian emperor Ashoka to mark the important sites related to Buddha's life. In an excavation made few years ago more objects of historical importance were discovered which are in display for all. Besides there are many stupas in Lumbini made by many Buddhist countries of the world Thailand, China, Sri Lanka, Japan and Myanmar.
There are Buddhists all over Nepal and hence Buddhist monuments are all over Nepal. In Kathmandu valley we have 2000 years old impressive stupa of Swoyambhunath and world's biggest stupa at Bouddhanath. The Bouddhanath stupa is 1500 years old and is more popular among the many Tibetan refugees living in Kathmandu. Inside the Kathmandu valley the city of Patan is dominantly Buddhists and has places like Mahabouddha Temple, Pharping Monasteries and Hiranya Varna Mahavihar to show you. On the outskirt of Kathmandu in the hill is the stupa of Namobuddha, small but old, active and highly revered.
This tour will take you to these Buddhist sites and also too few more while traveling inside the city. We will also take you to the peaceful and beautiful lake city of Pokhara. Here you can see the tremendous view of the Himalayas Annapurna Range panoramic views from peace pagoda visit the world peace stupa and go for boating in the cool lake water. Finally you will have free time to shop a great number of Buddhist objects which you may not find in your home country. What you have to bring with for to do Trekking please Click here
Bodhnath stupa, Kopan Monastery, Namobuddha, Pharping Monastery, Kathmandu city & Swayambhunath stupa and Lumbini (The Birthplace of Lord Buddha)
8 Days / 7 Nights per person twin share land only
Private Tour Guaranteed daily departures (min 2 people)
Day 01 Upon arrival, meeting and assistance at the airport and then transfer to the hotel.
Rest of theday free for acclimatization. Overnight at the Hotel.
Day 02 After breakfast, visit Kopan Monastery and Bodhnath. Kopan Monastery was founded by Lama Yeshe and Lama Zopa Rimpoche in 1970 as a center of Buddhist Teachings. Meet Senior Lama and orientation on Buddhism at Kopan Monastery. Lunch at local restaurant. Overnight at Hotel.
Kopan Monastery:Kopan hill is located at the terraced fields of the Kathmandu valley and visible for miles. Dominated by a magnificent Bodhi tree, it was once the home of the astrologer to the king of Nepal. It was to this hill that the lamas first came with their first Western students in 1969. Kopan Monastery had its beginnings in the Solukhumbu region. In 1971 Lama Zopa Rinpoche, the reincarnation of  the Lawudo Lama, a yogi of the tiny hamlet of Lawudo, fulfilled the promise of the previous Lawudo Lama to start a monastic school for the local children. The school was called Mount Everest Center. Twenty five monks moved down from the mountain to Kopan in 1971 – prompted by the harsh climate at an altitude of 4000 m.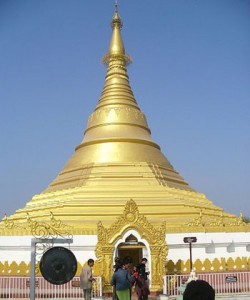 Boudhnath:
This Stupa, 8 kms. east of Kathmandu City, is one of the biggest in the world of its kind. It stands with four pairs of eyes in the four cardinal direction keeping watch for righteous behaviour and human prosperity. This Buddhist Stupa was built by King Man Deva at the advice of the Goddess Mani Jogini. It is built on an octagonal base inset with prayer wheels. The shrine is ringed by houses of Lamas or Buddhist priests.
Day 03 After breakfast, drive to Namobudhha (45 Kms), Buddhists call it "Tamangligi", the famous Buddhist spot, where Lord Buddha (on 7th re-incarnation) sacrificed his body to a hungry Tigress and its cubs. A scenic hike from Namobuddha to Balthali through the beautiful village.  Lunch at Balthali Village Resort. After lunch, hike for an hour where your vehicle is waiting to pick you up, then drive back to Kathmandu.  Overnight at Hotel.
Day 04  After breakfast, visit Pharping Monastery, Kathmandu durbar square including Kumar (The Living Goddess Temple) and Swayambhunath stupa. The Buddhist history says, Milerapa from Tibet took one night shelter in the cave, and accordingly blessed this monastery. Hindus have their own version that it was Pancha Pandav who had visited this place.
KATHMANDU:
Known as Kantipur,the capital of the Kingdom of Nepal. Here you will visit the temple of the Living Goddess, who acknowledges the Greetings of the devotees from the balcony of her temple residence. Kasthamandap – the source of the name Kathmnadu and supposed to be made from the timber of a single tree and the Durbar Square are with it's array of temples overlooked by the Hanuman Dhoka Palace, the ancient palace of the Nepalese Royalty.
Swayambhunath: Located approximately 4 kms./2.5 miles, this Buddhist Stupa is said to be 2000 years old. The Stupa which forms the main structure is composed of a solid hemisphere of brick and earth supporting a lofty conical spire capped by a pinnacle of copper gilt. Painted on the foursided base of the spire are the all seeing eyes of Lord Buddha. This hill is a mosaic of small Chaityas and Pagoda temples.
Day 05  Afterbreakfast, transfer to airport to take a flight to Bhairahawa.  Upon arrival at Bhairahawa airport, our hotel representative will meet and transfer to hotel. Dinner and Overnight at Hotel.
Day 06  Breakfast at hotel.
Sightseeingtour of Lumbini, the birthplace of Siddhartha Gautam, the Shakya prince and the ultimate Buddha, the Enlightened one, is the pilgrimage destination of the world's millions of people faithful to all schools of Buddhism. This nativity site, identified by an Emperor Ashoka from India commemorative pillar is listed as a World Heritage Site by UNESCO.
Dinner and Overnight at Hotel.
LUMBINI:
232 kms/145 miles away from Kathmandu, Lumbini is the birth place of Lord Buddha. The broken Ashoka Pillar, remnants of old monastery, images of Buddha's mother Maya Devi, are still preserved here. Mayadevi temple is the main attraction of pilgrims which is oldest shrine of Nepal. To the south of the Ashoka pillar, we find the sacred pond, Puskarni, where queen Mayadevi had taken a bath just before giving birth to the Lord Buddha.
Day 07 After breakfast, transfer to Bhairahawa airport to take a flight back to Kathmandu.  Upon arrival, meet and transfer to hotel.  Full day at leisure for personal activities and shopping.
Evening: Enjoy a typical Nepali dinner at a local restaurant with cultural show.
Overnight at Hotel.
Day 08 After breakfast, departure transfer to the International airport for onwards journey.
Tour Cost Includes:
Five nights stay at respective hotel with breakfast in Kathmandu.
Two nights stay at respective hotel on half board (MAP) basis in Lumbini.
Recommend Accommodation:
Swayambhu Peace Zone Hotel
Vajra Hotel
Tibet Meditation Hotel
Lumbini Garden Hotel
Arrival & departure transfers:
Meeting/assistance at the airport/hotel by our representative.
Sightseeing tours of following places with English speaking guide as follows:
Kopan Monastery and Bodhnath stupa
Kathmandu city and Swayambhunath stupa
Applicable entrance fees to visit sightseeing spots.
A day hike from Namobuddha to Balthali including Lunch at Balthali Village Resort.
2 Lunches at local restaurants during sightseeing tours.
Surface transfer from Kathmandu / Dhulikhel and Khopasi (Panauti)/ Kathmandu.
Airfare for Kathmandu/ Bhairahawa/ Kathmandu with domestic airport tax and transfers.
Half-day Sightseeing tours in Lumbini with a local English speaking guide including entrance fee.
A typical Nepali dinner at local Restaurant with cultural show.
Tour Cost Excludes:
Any items not mentioned above.
Any type of personal travel insurance
International departure airport tax + PSF.
Notice:
a)  We will provide our local English Speaking Guide for the sightseeing tours within Kathmandu valley and during the sightseeing tour in Lumbini.
Ashokan Pillar
Hotel, Guest House & Info in Lumbini, Nepal the Indian Emperor Ashoka (249 BC) visited Lumbini and erected an inscribed Ashokan Pillar on the spot of Buddha's birth. The inscription of the pillar (the oldest in Nepal) declares that Ashoka granted Lumbini tax-free status in honor of Buddha's birth. It is 6m high and half of it is beneath the ground. It is behind the Maya Devi Temple, to the west of the temple. Emperor Ashoka erected many other pillars throughout India. The carved top of the pillar has never been found.
Maya Devi Temple
There used to be is a temple here dedicated to Maya Devi, Buddha's mother. Parts of the temple are over 2,000 years old. It is believed that the temple was located where the Buddha was born. There used to be a pipal tree here that some people believed to be the tree that Maya Devi gave birth to Siddhartha under. In 1993 the temple was demolished and the tree cut down and an archaeological excavation has been taken place. A commemorative reddish-brown stone (70 cm long) on top of a platform has been discovered 5m (16 ft) below the old location of the temple. It is said that Ashoka placed a memorial stone at the place where the Buddha took birth. The stone was found where according a Buddhist literature, where the distance from the pond where the Buddha is supposed to have taken birth.
Excavation point to the fact that there are remains of a Gupta period (4th to 6th century), is on top of foundations from earlier Kushana and Mauryan periods. There is a bas-relief sculpture of Buddha's birth, said to date to 14th century that used to be in the old temple. There is a pond next to the temple and just south of the Ashoka pillar, where Maya Devi is said to have bathed in, before (some say after) the delivery of the Buddha. There are some ruined foundations of stupas and buildings dating from the 2nd century to the 9th century.
Buddhist Monasteries.
There are heavily restored brick foundations of stupas and buildings, which date from the second century BC to the ninth century AD. There are two modern monasteries. The Tibetan Dharma Swami Maharaja Buddha Vihar was established by Chogye Trichen Rinpoche and built by the king of Mustang. It has some aged paintings and gilded Buddhas and bodhisattvas. Sri Lankan Pilgrims Rest House, Lumbini, Nepal: about a half-hour walk (3km) from the Sacred Garden, is a large modern place that has clean rooms with common bath and hot water. Dorm beds arealso avaible. It has a restaurant. The Theravada Lumbini Buddha Vihar was built by the Nepal government. It has some Tibetan-style paintings, Newar woodwork and Buddhist images.
Master Plan Area
The government has set aside a large area of land north of the Sacred Garden to build a large pilgrimage centre consisting of monasteries, gardens, fountains and a tourist village. Some work has already been done. Several foreign temples and monasteries have already been built, and over a half a million have been planted. There is an eternal flame, which is supposed to represent the "Light of Asia." In the east side of the area a site has been set aside for the building of Buddhist monasteries built in the national style from countries from all over the world, with the form of worship from the particular countries.
Some monasteries have already been built. The Chinese Monastery has a large statue of Buddha and is built like a small-Forbidden City. The Myanmar (Burmese) Pagoda was built in the style of the famous Shwedagon temple in Rangoon. There is a Cultural Center. North of the Cultural Center is the large Lumbini Shanti Stupa which is being built. When it is finished it is supposed to be 40m high. The Lumbini Crane Sanctuary is where around 30 endangered sarus cranes live. They are the tallest flying bird. Around 200 or 300 of these cranes live in Nepal. Storks, egrets and other water birds are also here. The area around the master plan has around 150 species of birds.
Festivals
There is a Buddhist festival in April/May called Buddha Jayanti here to celebrate the appearance of the Buddha. At the same time there is a big Hindu festival celebrated on the full moon day of the Nepali month of Vaisakha (April/May), when Hindu come to worship Maya Devi as Rupa Devi, the goddess of Lumbini.