The Himalayan Kingdom has the richest and most diverse culture landscapes anywhere. Nepal is the holy land of Lord Pashupatinath and Gautam Buddha where the Hindus and Buddhists have lived together in harmony for centuries. The Temple of Pashupatinath is Nepal's most sacred Hindu shrine and one of the four most important cities in the world for Shiva worshippers. Lord Buddha, the light of Asia, was born in Lumbini in Nepal's southern plains, which makes Nepal a scared pilgrimage destination for Buddhists as well.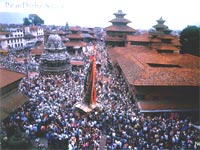 The rich tapestry of the cultural heritage of Nepal is synthesized in the Kathmandu Valley. The three ancient cities of the Valley- Patan, Kathmandu, Bhaktapur-represent an epitome of harmony in urban design, elegant architecture and refined culture. These cities pack a concentration of religious monuments unequalled in the world. Don't miss the seven monument zones named as World Heritage Sites by UNESCO all situated within the small confines of the Valley.
Adding dazzling color to Nepal's myriad attractions are the many festivals that dot the calendar. Join in the numerous annual festivals that are celebrated throughout the year in traditional style highlighting enduring customs and beliefs. Go for village tours and visit the multi-ethnic groups to get first hand experience of their customs and lifestyles.
As eating is a special affair in Nepal, there is food for each and every occasion and festival. Kathmandu offers an incredible selection of dining opportunities. There are many restaurants that serve only authentic Nepali food complete with ethnic ambience.
People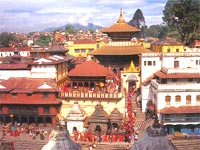 The population of Nepal was recorded to be about 25 million as of July 2002. Eighty-six percent of Nepalis follow Hinduism, while eight percent follow Buddhism and three percent follow Islam. The population comprises various groups of different races which are further divided into different castes. The distinction in caste and ethnicity is understood more easily with a view of customary layout of the population.
Some of the main groups are such: Gurungs and Magars who live mainly in the western region; Rais, Limbus and Sunwars who live in the eastern mid hills; Sherpas, Manangpas and Lopas who live near the mountains of Everest, Annapurna and Mustang respectively; Newars who live in and around the capital valley of Kathmandu; Tharus, Yadavas, Satar, Rajvanshis and Dhimals who live in the Terai region; and Brahmins, Chhetris and Thakuris generally spread over all parts of the country.
Nepali is the official language of the state, spoken and understood by 90 percent of the population. Multiple ethnic groups speak more than a dozen other languages in about 30 different dialects. English is spoken by many in government and business offices. It is the mode of education in most private schools of Kathmandu and some other cities.
Festival of Nepal
Dashain
Dashain is the most important festival among Nepalis. The entire population of Nepal celebrates the festival that falls between mid September to mid October. Nepalis celebrate Dashai by buying new clothes, eating good food and visiting family members. Card games are very popular during this time. Various fairs and celebration events are organized during the Dashain fortnight in both villages and cities.
Tihar
Tihar is the festival of lights. This five-day celebrations of Tihar fall in October or November generally a fortnight after Dashain and are partaken with equal joy by all Nepalis. Houses are illuminated at night and special sweets of different varieties are prepared. Tihar, like Dashain, is a series of family events. Goddess Lakshmi is remembered and offered worship on Lakshmi Puja Day.
Lhosar
Lhosar which falls on a new-moon day in February is celebrated by Tibetan-speaking population. Songs and dances are organized in Kumbu region of Nepal. On this day devotees throng Bouddhanath in Kathmandu for celebration and worship.