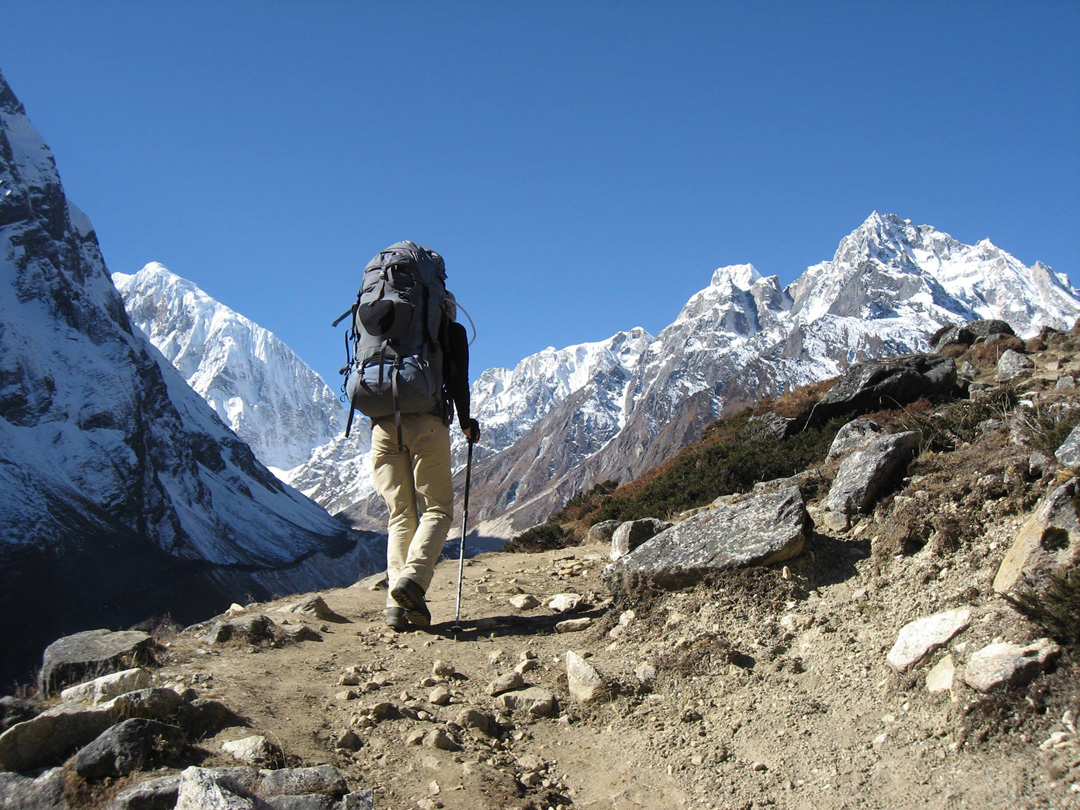 Manaslu Circuit Trek /tsum Valley
Among various alluring trekking destination of Nepal Manaslu region stands atop in terms of natural splendors and grandeurs of mountains. The place is under the restricted trekking region which requires special permit for the trekking activities to conduct. Manaslu Circuit Trek with Tsum Valley is the round trekking adventure in the vicinity of Mt. Manaslu (8156 m). The journey is full of wilderness adventure and mystical experience up in the Himalayas. From gorgeous hilly landscape to the mythical eons caves representing ancient Milarepa Monks who meditated in the area. Tsum refers to the hidden basin and the place is holy as it is believed that during famine lots of people and wildlife sought shelter in the area. Besides Alpine Adventure Team urges all the travelers across the globe to visit this place once to show some friendly gestures to the people ravaged by 2015 earthquake. The region was heavily damaged in terms of people and property. However, people are rising again after such a callous act of nature. Your one visit could assist in creating a beautiful hamlet for people to live in. Moreover, the journey endows enthralling crossing of high altitude Larke La Pass (5160 m), multi ethnic villages, waterfalls, rivers, mountains and Himalayan walking experience.
The journey of Manaslu Circuit Trek with Tsum Valley starts with the joyous bus drive to Soti Khola of Gorkha district. Black topped road up to Dhading Beshi and hilly postal graveled road via Aarughat takes trekkers to walking starting point in Soti. This small trekking embark point is at the bank of Budigandaki River. The journey traverse places like Machhakhola and follows the river until reaching the wide valley of Tsum. The place is considered as the replica of Tibetan community as most of the dwellers follow the Tibetan Bon Po religion. Apart from ancient Milarepa Caves where 8th Eon meditated in that tranquil locality. After witnessing green lush valley of Tsum trekking follows the circuit trekking route towards Samagaon. The rest day allow trekkers to acclimatize before heading to further high altitude trekking. The view of Mt. Manaslu also known as mountain of spirit as the word is derived from Sanskrit word Manas is splendid. Journey reaches its epitome when you step at the top of Larke La Pass. The view of Mt. Annapurna, Ganesh, Manaslu, Dhaulagiri, Himlung and many others looks marvelous from this place. Relish jaw dropping scenery of snow-clad mountains. The trip finally descends towards Dharapani via Bhimthang where trekkers meet the Annapurna Circuit Trekking route. The bus drive from Dharapani will take you back to Kathmandu via Besisahar.
Book the Manaslu Circuit Trek with Tsum Valley with highly experienced team of Alpine Adventure Team. The journey will be very informative with full of quality services and impeccable hospitality offered by experienced crew members. We are always devoted to take trekkers to the places where they can enjoy the majestic nature as well as do some voluntary activities. The reason behind promoting Manaslu Region is the devastative 2015 earthquake's damage on this area. Moreover, join us to trek and support the people of such affected places like Langtang, Rolwaling and Ganesh Himal area. Your trekking holiday in Nepal with us can be the momentous tale of your life which you can share proudly for generations to come.
Manaslu Circuit Trek with Tsum Valley Itinerary
Day 01 Arrival in Kathmandu airport (1345m).
There you will be met by our Airport Representative and transferred to hotel by private tourist vehicle.
Day 02 Sightseeing around Kathmandu valley.
Your sightseeing trip will start at 9 AM in the morning after breakfast. We will provide a private vehicle and professional tour guide. We visit Pasupatinath temple, Buddhanath, Monkey temple, Bhaktpur durbar square and Kathmandu durbar square. The afternoon includes a final briefing and preparations for the trek.
Day 03 Drive to Arughat (640m) 5 hours.
Your Trekking staff will come to your Hotel early in the morning at 7.00 am to pick you up, from there we have an 8 hour driving journey to Arughat. From Kathmandu to Dhading Bensi for 3.30 hours is comfortable drive but from there to Arugat for another 4 hours we will be driving on dirt road.
Day 04 Trek to Soti Khola (775m) 6 hours.
Follow the Budhi Gandaki River toward its point of origin. We pass the village of Morder and Simre to reach Arkhat River. After Arkhat we ascend slowly toward Kyoropani. Camp today nears the confluence of Seti River – an ideal place to take a fresh water bath.
Day 05 Trek to Machha Khola (900m) 5.30 hours.
The trail descends slowly until you climb again to mountain ridge to Almara. Pass the forest trail to arrive at Riden Gaon. The valley here cuts into another side of the river to enter Budhi Gandaki. At Lambesi, the trail follows down to the sandy river bed of Budhi Gandaki. Camp tonight at Machha River.
Day 06: Machhakhola – Thulo Dhungga – 4 hours hiking
Day 07:Thulo Dhungga–Philim ~ 6 hours trekking (checkpoint & 1st night in Tsum valley)
Day 08: Philim – Chumling (Tsum valley) ~ 8 hrs trekking
Day 09:Chumling – Chhokang Paro (3031m ) (Tsum valley) ~ 6 hrs trekking
Day 10: Chhokang Paro – Mu Gompa (3700 m) (Tsum Valley) ~ 6-7 hrs trekking
Day 11:Mu Gompa – Lar (3245) (Tsum valley ~ 3 to 4 hrs trekking. (stayed in Mu Gompa until early afternoon
Day 12:. Lar – Chumling (2386 m) (Tsum valley ~ 9 hrs trekking, lunch & site-seeing
Day 13:Chumling to Ngyak (2310m) 6 hours.
After ascending to a terraced hill of Saguleri and view of Sringi Himal (7177 meters) we continue toward Sirish Gaon, Gandaki valley narrows from herewith soaring precipitous walls.
Day 14 : Trek to Ghap (2100m) 6 hours.
Follow the trail upstream of Deng River – a tiny village of 4 houses. We walk through a newly built rock tunnel from here, thus avoiding the traditional steep climb. At Ghap, the Tibetan culture begins with Mani stones and chortens all around.
Day 15: Trek to Lho (3200m) 6 hours.
After crossing the wooden bridge over Budhi Gandaki we follow the path lined with houses that are interspersed with cultivated fields. At Namru, there is a police check post again. After Namru, across the Hinan river originating from Linda Glacier and continue on to Sho. Naike peak, Manaslu north (7774 meters) and Manaslu (8150 meters) are visible from here. Tonight we camp near a spring at Lho gaon – a small village.
Day 16: Trek to Samagompa (3500m) 6 hours.
You will pass the stone gate and long Mani stone wall of the village after Lho with full view of Peak 29 ahead. You can make a side excursion to Pungen Glacier from here to get a very close up view of Manaslu. Follow the lateral moraine of Pungen Glacier toward Sama. From the village of Sama, it takes another 20 minutes to reach Sama Gompa for night halt.
Day 17 Trek to Stone Hut (4500m) 5 hours
Today we climb a terraced hill on the opposite bank of Budhi Gandaki River from here toward a most remote permanent settlement – Samdo. Here amid the most sever conditions of nature live some 200 villagers in forty houses check-by-jowl. Camp at Stone Hut.
Day 18: Acclimatization and exploration day.
We will spend a day here in order to acclimatize and adjust to the thinning of the air and also for local excursion.
Day 19: Cross Larkya La (5215m) and trek Bhimphedi (3590m) 8 hrs.
We first climb towards Cho Chanda and then slowly head steeply uphill towards the snowed-up pass. From the top the panorama is magnificent: Himlung Himal (7126meter), Cheo Himal (6820meters), Gyagi Kung, Kang Kuru (6981meters) and the Annapurna II (7937meters). The descent is steep, through moraines, towards Bhimphedi.
Day 20: Trek to Tilje (3900m) 5 hrs.
The route gets easier. We start with a gentle climb through paddy fields towards the small Karcha La pass and descend through fig tree and rhododendron forests to Tilje.
Day 21: Trek to Tal (1725m) 5 hrs.
Follow the trail downstream of Marshyangdi River, passing through the scattered villages to reach Tal village for overnight stay.
Day 22: Trek to Jagat (1300m) 5 hrs.
Day 24: Drive from Beshisahar to Kathmandu 7 hrs by local jeep
Day 25: Rest day at Kathmandu

Day 26: Departure your destination
only guide services charge
14 days guide charge  266 Us dollars
tims card 20 Us dollars
annapurna conservation 20 Us dollars
manaslu conservation  20 Us dollars
guide insurance 20 Us dollars
Total 346 Us dollars
full boards services :
(Trekking hiking 14 days, lodging, fooding, porters charge, permit , annapurna conservation, manaslu conservation,
Tim's, 3 night With bed and breakfast 990 Euro per person)
If you summit larke peak extra 250 Euro each person
Cost Included:
Airport / Hotel / Airport pick up & drop by private car / van / bus.
Standard accommodation in four/five star hotel in Kathmandu breakfast included. (3 nights on twin sharing) Full board meal Tea & coffee.
A local government licensed Guide during the trek, required number of porters, their food, accommodation, salary, insurance, equipment, , transportation.
All special trekking permits & fees.
Surface Transfer to and from Kathmandu.
First aid medical kid.
All our government taxes.
Tourist service charge, vat.
Official expanse.
Cost Excluded:
Lunch and dinner whilst in Kathmandu.
Your travel insurance (compulsory).
International airfare and airport departure tax.
Nepal entry visa fee (US$ 30 per person) you obtain a visa easily upon your arrival at Tribhuwan International Airport Kathmandu for 60 days from date of issue. You will require 2 passport size photos.
Items of a personal nature such as alcoholic drinks, cold drinks, laundry.
Personal trekking Equipments.
Tips for trekking staff and driver. (Tipping is expected.
Sightseeing/Monuments entrance fees in Kathmandu.
Any others expenses which are not mentioned on Price Includes selection