This four-night trip makes an ideal extension to a Nepal holiday and is a great opportunity to experience the flavour of Tibet, its landscapes and heritage. Flying from Kathmandu, we traverse the Himalayan range and with luck, get stunning views of its great peaks. Crossing the broad Tibetan Plateau, we land at Lhasa and transfer to the Lhasa Hotel in the city centre, within walking distance of the Jokhang.
Departures : Available as an extension to any trip from Nepal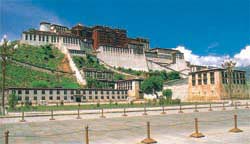 Costs : Click here for price list
This four-night trip makes an ideal extension to a Nepal holiday and is a great opportunity to experience the flavour of Tibet, its landscapes and heritage. Flying from Kathmandu, we traverse the Himalayan range and with luck, get stunning views of its great peaks. Crossing the broad Tibetan Plateau, we land at Lhasa and transfer to the Lhasa Hotel in the city centre, within walking distance of the Jokhang.
Over the nest days we visit Norbulingka, the summer palace of the Dalai Lama, now in exile in Dharamsala in India, and Potala Palace, the traditional seat of the Dalai Lama and now a museum perched high on Marpori, the 'Red Mountain'. This is Lhasa's architectural gem and an example of the importance of Tibet's extraordinary culture and religious life of its people. We also visit the sacred Jokhang Temple, whose inner circuit is lined with markets and street vendors.
Outside the city, we see the historic Drepung Monastery, with its sweeping views over Lhasa Valley, and Sera, where monks were trained in the martial arts.
So that you can shop or browse at leisure, immersing yourself in the unique ambience of the city, we also include a free day in Lhasa.
Outline Itinerary :
Day 1: Fly Kathmandu-Lhasa. 90 minute transfer by road to the city and a chance to enjoy the dramatic vistas of the Tibetan Plateau. 4 night stay at Lhasa Hotel. Afternoon visit to Norbulingka Palace.
Day 2: Visit the hill-top Potala Palace, built on 13 floors, containing more than 1000 rooms and around 10,000 shrines. Afternoon spent exploring the artistic gems of Jokhang Temple and Barkhor Bazaar, teeming with pilgrims, market stalls and street vendors.
Day 3: The day is spent in the surrounds of Lhasa, visiting two major sites. Once the largest monastery in the world, Drepung housed 10,000 monks while at the monastery of Sera we may see the monks engaged in a traditional courtyard debate.
Day 4: Free to explore at leisure or shop for crafts in the bazaar.
Days 5: Transfer to the airport. Return flight to Kathmandu.