Mt. Manaslu (8,163m) Expedition 2018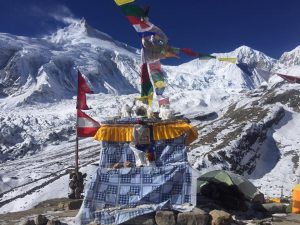 Manaslu lies in the Nepal Himalaya, Kali Gandaki valley. This mountain was previously known as Kutan l. 'tang' being the Tibetan word for flat places thereby describing the mountain's general summit. It was then renamed Manaslu which comes from the Sanskrit word "Manasa" meaning "intellect" or "soul". T.Imanishi & G. Norbu first climbed it in 1956. Many consider the three peaks of Manaslu as Japanese peaks as they were the first to reach its summit in 1956. There exist half a dozen different routes on Manaslu today. The south face of this "mountain of intellect" is arguably the toughest in climbing history. Our caravan route takes off at Sama Gaon, where incidentally Makalu is called Kambung- after a local god. It was here in this selfsame village back in 1954 that the second Japanese expedition met with bitter resistance from the locals. They blamed the presence of the heathen foreigners for the avalanches and pestilence on the valley. They felt that Japanese had insulted the gods dwelling in the mountains thereby angering them into creating such adverse conditions.Manaslu Circuit Trek with Tsum Valley with highly experienced team of Alpine Adventure Team. The journey will be very informative with full of quality services and impeccable hospitality offered by experienced crew members. We are always devoted to take trekkers to the places where they can enjoy the majestic nature as well as do some voluntary activities. The reason behind promoting Manaslu Region is the devastative 2015 earthquake's damage on this area. Moreover, join us to trek and support the people of such affected places like Langtang, Rolwaling and Ganesh Himal area. Your trekking holiday in Nepal with us can be the momentous tale of your life which you can share proudly for generations to come.
Outline Itinerary:
Day 01 Arrival in Kathmandu and transfer to hotel.
Day 02 – 04 Official preparation day in Kathmandu.
Day 04 Drive to Gorkha  Macha Khola. Overnight camp.
Day 05 Trek to Jagat. Overnight camp.
Day 05 Trek to Nyak. Overnight camp.
Day 06 Trek to Prok. Overnight in lodge
Day 07 Trek to Namru. Overnight in lodge
Day 08 Trek to Lho. Overnight in lodge.
Day 09 Trek to Sama Gaon. Overnight in camp.
Day 10 Manaslu BC.
Day 11 – 27 Climbing
Day 28 BC to Sama Gaon. Overnight camp.
Day 29Trek to Namru. Overnight camp.
Day 30 Trek to Nyak. Overnight camp.
Day 31 Trek to Jagat. Overnight camp.
Day 32 Trek to Machakhola. Overnight camp.
Day 33 Trek to Arket. Overnight camp.
Day 34 Trek to Gorkha. Overnight camp.
Day 35  Drive to Gorkha to Kathmandu. Transfer to hotel.
Day 36 – 37 Stay in Kathmandu.
Day 38  Departure your destination.